01-10-2018
This is how you make your own sour mix!
There is just something great about presenting your guest with your own creations. This also goes for drinks and cocktails. You will often be met with gazing impressive looks, when you serve a beautiful cocktail and if you can then add that you actually made one of the ingredients yourself, you get top marks from everyone. So why not make your own sour mix? It's cheap – easy and only takes 4 ingredients.
The 4 basic ingredients are:
– Water – 1 part
– Sugar – 1 part
– Freshly squeezed lemon juice – 1 part
– Freshly squeezed lime juice ½ part
Method
1. Combine sugar and water into a syrup. This is done by pouring 1 part sugar and 1 part water into a pot and letting it simmer until the sugar is completely dissolved. Remember to stir occasionally, so that the sugar doesn't burn. Afterwards put it in the fridge.
2. All the lemons and lime need to be sliced down the middle and pressed into a glass. You can do this by hand or with a citrus press.
3. Remove the pulp from the citrus fruits – use a strainer with small holes or a double strainer ( fine strainer )
4. When all the pulp is gone, you can add the cooled sugar syrup.
5. After stirring, you're ready to use your freshly made sour mix.
We recommend that you keep your sour mix in the fridge in a bottle or glass with a tight seal.
Try it in our delicious drinks with sour mix: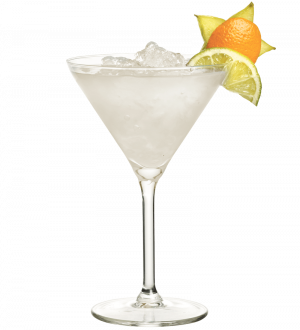 Sweet Lime and Sour
2 cl.

CUBA Dry Lemon

2 cl.

Sour mix
Freshly squeezed lemon juice